RECORDINGS...


LISTEN:
"The Man on the Train"
January 7, 2018
LISTEN:
"Covenant, Not Creed"
LISTEN:
"Our Discomfort with Prophets"
SERVICES SCHEDULE...
Sundays 10:30-11:30 am
Join us for a hospitality hour following each service.
____________________

March 11
Rev. Eve Stevens
-
The Great Balancing Act

Are you prioritizing what is most important to you? Are you privileging your joy and curiosity? What is weighing on your shoulders and making your steps unsteady? Join us for a life check-up.
March 18

Rev. Eve Stevens
-Grateful for Your
Presence Through
the Long Night

We celebrate those leaders, teachers and friends who have shown us the way when the light is flickering and uncertain.
March 25
Rev. Janet Stemmer

-Rebalancing

Over time, we see how our lives and the civilizations in which we live rebalance. Change is always a certainty yet there is often shock when change occurs. How do we grow in times of change? What are the lessons?
April 1 Easter Sunday
Rev. Eve Stevens
-
The Good Morning

Join us for a celebration of awakening as we welcome the spring. What is being reborn in you? What do you wish to bring to life in the world around you?
Children's Easter egg hunt
follows the service.
"A church where people with many different beliefs come together,
in faith & pursuit of social justice. ~ All are welcome!"
Learn more about Unitarian Universalism here!

Our Mission
We nurture spiritual community, honor diversity, and advocate for social justice.
Our Vision
Our church is where:
There is a safe place to explore deeper meanings together and, we consider, with love, all ideas

We find, with respect and open minds, shared humanity amidst our differences

Through education, partnership, and action, we empower the betterment of individuals, our community, and the world.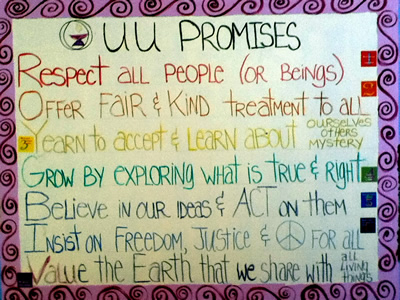 We will:
Treat each other with civility, dignity, and respect
Respect our individual ways of identifying with spirituality
Invite and welcome people with many views into our free-thinking community
Engage in meaningful spiritual experiences in both large and small groups
Form mutually beneficial partnerships with our local community, churches, and the Interfaith Coalition
Create a forum for discussion and education about social justice issues
Communicate available social justice opportunities in our community

Blessings for the UUA's new building in Boston
See our church members at 1:49!