Unitarian Universalist
Religious Education Program 2003 - 4
Unitarian Universalist Church
10 Higby Road
Utica, NY 13501
315-724-3179
Home Current Events Our Minister Children's Religious Ed Social Action Vision
If you have any suggestions or are interested in joining the RE Committee, please contact
either Lynn Shaw and Sandra Whitney, RE Committee Co-Chairs.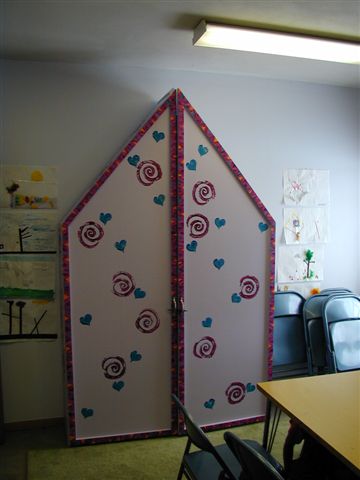 Welcome to our Unitarian Universalist
Religious Education Program
RE Corner (Religious Education)
Please join us for the resumptions of our children's worship and classes on
Sundays at 10:30 AM.
This year we continue our exciting new Religious Education format.
We are offering a spiritual gathering in addition to the traditional learning setting for our children. Sunday morning classes begin with a Children's Worship Service conducted by volunteers from our congregation. Dave Whitney has built a worship cabinet which has been beautifully decorated by Kaaren. By opening the cabinet, the children's classroom is transformed into a sanctuary where they join together for songs, sharing and reflection. The children have responded very positively to their new program. Their favorite parts are the talking stick (joys and concerns), singing and reciting the UU principles. With our expanded programs, there are also more volunteer opportunities! The Sunday School needs a parent helper each week to provide snacks and juice for the children and take care of any odds and ends that may crop up; this most likely would not cause you to miss any of the adult service. There's a weekly sign up sheet for this job. Please see Lynn Shaw for details. We also need volunteers to baby sit in the nursery each Sunday. Please see Phyllis Brockley if you would like to help out with our youngest folks. We have a core group of Children's Worship Leaders but additional volunteers are welcome. Feel free to sit in on one of the children's services to see if you would like to be involved in this program. See Sandra Whitney or Leslie Bell for more information.
UUA Office of Young Adult & Campus Ministry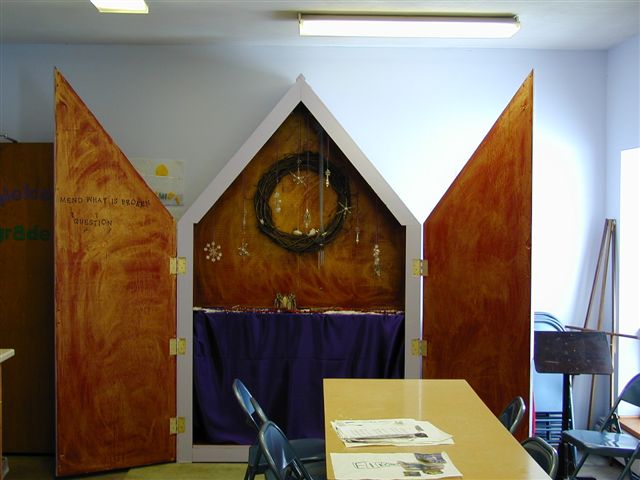 "Whatever we can do, or dream we can do, let us begin it.
Boldness has genius and power and magic in it.
May we ever be bold in our living and in our loving."
(Adapted from Goethe)
RE Religious Education
We have a children's new Worship Center! The idea for this project initially came from the RE Committee. The actual structure was built by Dave Whitney and decorated by Kaaren. The result is a dedicated sacred space for the children to use for their Worship Service. Because of the limited area available to the children during Sunday mornings, this will greatly enhance their focus during worship time. Dave and Kaaren did a wonderful job and we would like thank them for their time and talent. Please stop by the RE room to see this creation.
We Need Your Help (not for parents only!)
With the increased enrollment and change in program design we have an increased need for volunteers, The first position is the "RE Sunday Helper". This person provides a snack and juice for the children and help take care of any odds and ends that may crop up before church on Sunday morning; this most likely would not cause you to miss any of the adult service. There is a sign up sheet with complete instructions or see Lynn Shaw for details. A batch or two of cookies,
some juice, 20 minutes before church on Sunday is all that is required. We also need volunteers for our nursery on Sunday mornings. There is a sign-up list in the nursery or you can contact Phyllis Brockley, as listed in the directory, if you would like to help out with the youngest UU's of the church.
Borrow Bags
We now have "borrow bags" available for parents with small children who may yet be uncomfortable with the nursery. The bags consist of "quiet toys and books" allowing children to join their parents in the sanctuary for the service. Speakers are also set up in the parlor in case you need to leave the room. This way you won't miss the service. Ask an usher for a "borrow bag".
We will be meeting from 10:30 -11:45 each Sunday from September 7, 2003 to June 6, 2004. Snack time is from 11:30-11:45, please pick up your children at 11:45. Regular attendance (as circumstances allow) gives your children the full benefit of the Sunday morning experience, as well as the opportunity to build relationships and feel part of the group.
Please register on the first Sunday you are there. The Religious Education Program
is supported by the church budget, please make a pledge if you have not done so already.
As a parent, it is vital that you participate in your child(ren)'s spiritual development. One important contribution is to assist in the classroom occasionally, IE, crafts and snacks. Members of the RE committee will contact you to schedule a convenient Sunday.
We have a growing Religious Education Program where we strive for our goals set by
our Minister, the R.E. Committee, teachers, volunteers, and the church community as a whole.
This year we are continuing a new and exciting Religious Education format.
We have decided to offer a spiritual gathering as well as
the typical learning setting for our children.
The Sunday morning classes will begin with a "Children's Worship Service"
and then divide into separate classes based upon age.
Children's Worship Service Age 4-Sixth Grade
The Children's Worship Service is modeled after the adult service
and includes the following:
Gathering Music
Ringing of Chimes
Inspirational words
Recitation of the 7 UU Principles
Chalice Lighting
Collection (spare change with money going to social action projects)
Talking Staff (Joys and Concerns)
Creative Expression
Hymn of the Month
This portion of the morning will be lead by volunteers from the church
community.
Classes Age 4-Sixth Grade
We will continue to have two classes based upon age. The younger group (ages
4 through grade 2) will have Jennifer Perry as their teacher. The older
children (grades 3-6) will be instructed by Robyn Schmidt. Parent volunteers
will assist the teachers as needed and help with snack time each week.
Youth Group Seventh Grade - High School
The teenagers are encouraged to attend Church Services or help in the church
classrooms on Sunday mornings. They will meet as a group at noon on the
first Sunday of each month to discuss and plan events of interest to them.
Kirsten Bortz will be meeting with the group to help coordinate their
programs.
Coming of Age Group - Ages 11-13
This year long program engages youth in exploring Unitarian Universalism,
discovering world religious traditions and spiritual retreat. They
participate in a coming of age ritual, becoming a junior member of the church
in the spring. Mary Yoder is the facilitator.
Nursery - crib to about 4 years of age
The nursery class will be supervised play time.
Volunteers from the church community will be with our young children
throughout the year.
Previously Published:
We have a policy of requiring parents to pick up their children from the RE classroom
after the service. No child will be permitted to leave at the end of class without a parent.
Please stop by the RE rooms by 11:45 to get your students.
We appreciate your cooperation with this policy.
Lynn Shaw and Sandra Whitney
R.E. Committee Chairpersons
Religious Education Committee
Lynn Shaw,co-chair Sandra Whitney, co-chair, Amy James, Robin Vanderwall, Lori Smith,
Leslie Bell, Phyllis Brockley and Larry Griswold.
Goals:
Development of an Identificatlon with the Unitarian Universalist denomination and
an understanding of the UU Principles & Purposes, listed below.
Assist our children in exploring the world's religions.
Enhance the children's involvement with each other and the congregation.
Provide a safe place to promote the use of natural curiosity.




Principles and Purposes of the Unitarian Universalist Association:
Adults: We believe in the inherent dignity and worth of every person.
Children: We believe that each and every person is important.

Adults: We believe in justice, equity and compassion in human relations.
Children: We believe that all people should be treated fairly.

Adults: We believe in acceptance of one another and encouragement to spiritual growth in our congregations.
Children: We believe that our Churches are places where all people are accepted, and where we keep on learning together.

Adults: We believe in a free and responsible search for truth and meaning.
Children: We believe that each person must be free to search for what is right and true in life.

Adults: We believe in the right of conscience and the use of the democratic process within our congregations and in society at large.
Children: We believe that everyone should have a vote about the things that concern them.

Adults: We believe in the goal of world community with peace, liberty, and justice for all.
Children: We believe in working for a peaceful, fair and free world.

Adults: We believe in respect for the interdependent web of all existence of which we are a part.
Children: We believe in caring for our planet Earth.



It Matters What We Believe
Some beliefs are like walled gardens. They encourage exclusiveness,
and the feeling of being especially privileged.
Other beliefs are expansive, and lead the way into wider and deeper sympathies.
Some beliefs are like shadows, darkening children's days with fears of unknown calamities.
Other beliefs are like sunshine, blessing children with the warmth of happiness.
Some beliefs are divisive separating the saved from the unsaved, friends from enemies.
Other beliefs are bonds in a universal brotherhood where sincere differences beautify the pattern.
Some beliefs are like blinders, shutting off the power to choose
one's own direction.
Other beliefs are like gateways, opening up wide vistas for exploration.
Some beliefs weaken a child's selfhood. They blight the
growth of resourcefulness.
Other beliefs nurture self-confidence and enrich the
feeling of personal worth.
Some beliefs are rigid, like the body of death,
impotent in a changing world.
Other beliefs are pliable, like the young sapling,
ever growing wIth the upward thrust of lIte.
- - -from Today's Children and Yesterday's Heritage by Sophia Fahs
We are still collecting donations to the Heifer International project. We are asking each child to do a job at home that will earn a dollar, and in turn contribute the dollar to this worthy cause. Our goal is $20 with which we will "purchase" a flock of chicks. These chicks will be sent to a needy family in Afghanistan. You don't have to be a child in the RE program to contribute. If you would like to donate to this project contact an RE committee member or one of the RE teachers.
Home Current Events Our Minister Children's Religious Ed Social Action Vision